The return of Slowdive is exciting for many, many reasons, but for guitar nerds like me, one of them is a chance to get a look at what wonderful noisemaking toys the band are using now. History has shown, however, that they're not necessarily the gear hounds that their fans might think. Comparing their setups over the years since reuniting in 2014 shows more staying the same than has changed.
The good folks at Joe's Pedals in Exeter, UK have taken care of exactly what the band 'gaze at while they play for a while now, and recently shared shots of Neil Halstead and Christian Savill's pedalboards just before setting out on their current North American tour. Because it's what gives me joy, I'll be going over every funbox on their respective boards and compare it with some of their previous iterations. Pedals are listed in their presumed signal path, but I have no idea how they're actually routed; typical convention may not be how they roll.
NEIL HALSTEAD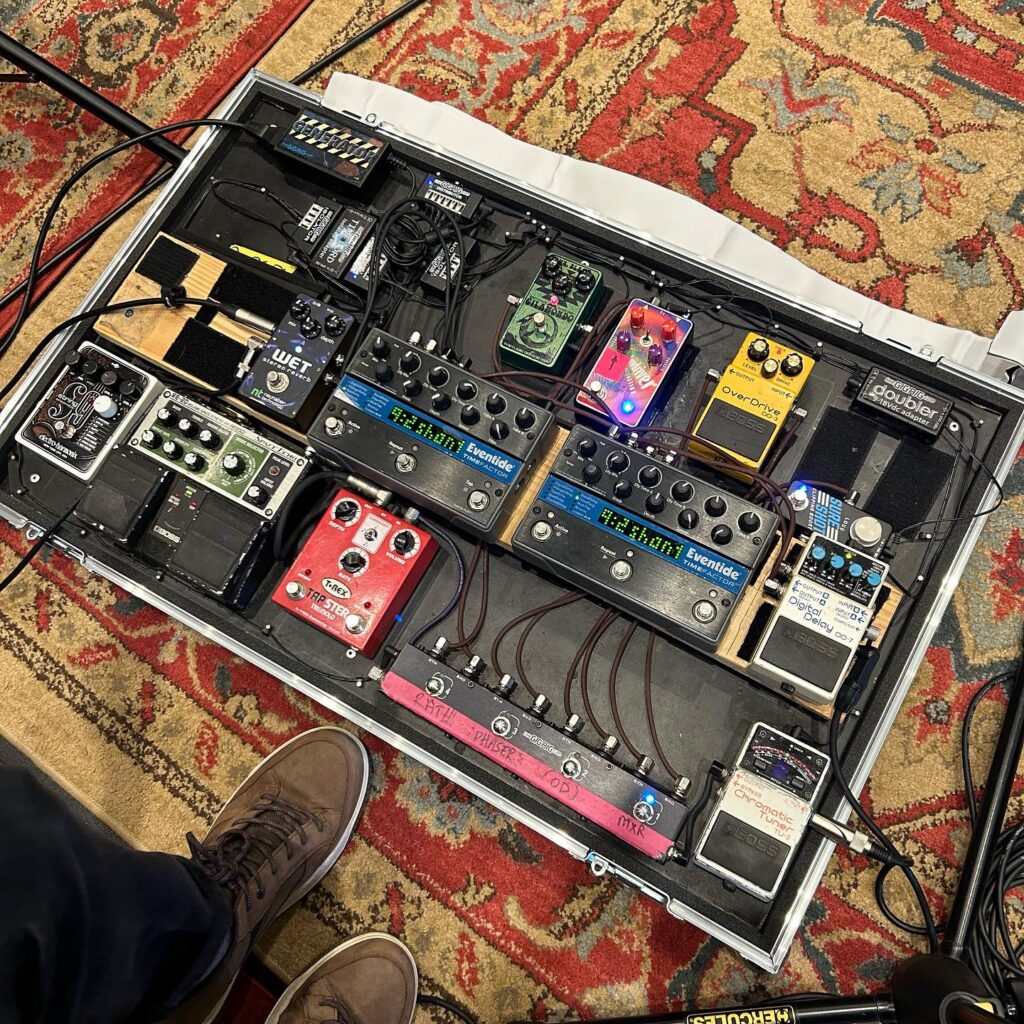 Boss TU-2 Chromatic Tuner
Greer Amps Sure Shot Clipping Boost
Boss OD-3 OverDrive
Mr Black Gilamondo phase shifter
Emmergy FX Slowdriver
T-Rex Tapster Tremolo
Boss RE-20 Space Echo
Electro-Harmonix String9
Boss DD-7 Digital Delay (modulate)
Eventide TimeFactor x2
Neunaber Wet Stereo Reverb
The GigRig power supplies
It's safe to say that Neil is not given to mixing things up a lot; a lot of his board has been static for the past decade, and some – like the RE-20 – have been at his feet at his solo shows and probably even Mojave 3 gigs. The meat and potatoes of his setup – the OD-3, Gilamondo phaser, DD-7 and Wet reverb have been fixtures since 2014. He knows what he likes. However, there's slots where he's willing to try new things.
As recently as two months ago he had a Origin Effects Cali76 in place of the Greer, and five years ago there was an MXR 10-band EQ in that spot. Getting his boost from a few different directions – clean gain boost, compression, EQ – whatever works. Another swap since then were the Boss SD-1 giving way to the gainier Slowdriver, a UK indie builder who used Catalinbread's Katzenkonig Rat/ToneBender hybrid as a template and named it for the band. The very collectible Boss PN-2 was replaced by the String9 – not sure what song it's used for – and introducing the T-Rex Tapster for tremolo needs. The Boss DD-500 delay also went away; maybe there is such a thing as too many delay pedals? Going back to the initial 2014 reunion, it was actually a simpler setup – only one TimeFactor – with the Mr Black DoubleChorus, ProCo Rat 2, and Electro-Harmonix Holy Stain reverb having gotten the boot.
Interestingly, if you compare his current rig with what Guitar Geek had logged for him way back in 1993, it's pretty close at its core. His distortion tones still come from a Boss and a Rat, modulations are a trem and phaser – no chorus or flange here – and a bunch of digital delays, though the Space Echo clearly worked its way into his heart at some point.
Looking at his guitars, he's now playing a 1980 Greco Super Power Strat alongside his sunburst Epiphone Casino. Rachel Goswell recounted a funny story about the Rickenbackers he used to play in the '90s in an interview with The Quietus:
Neil used to have a blonde 12-string Rickenbacker and he had to flog it to a pawnshop in London. And who bought it? Johnny Marr went in and bought this 12-string Rickenbacker. It was still in the case and it had 'Slowdive' written on it.

I was at a mutual friend's birthday party a few years ago. Johnny had come to see Mojave 3 a couple of times over the years, but it was only at this this friend's party that really spoke to him in depth. I think we were the first people to arrive, so we were chatting and talking a little bit about Slowdive, and I talked to him about my love of The Smiths. Then he mentioned this Rickenbacker, and he said, 'Didn't you used to have blonde 12-string Rickenbacker?' I said, 'Yeah' and he said, 'I bought that for my son!'

I checked with Neil and he was like, 'Yeah, I did have to flog it to a pawnshop for money.' Johnny's just released his book about his guitar stories about his guitars and that guitar is in it! That's quite cool story really.

Rachel Goswell, Slowdive
The Only Goth In The Village: Rachel Goswell's Favourite Albums @ The Quietus
And for amplification, Neil continues to play the two Roland JC-120 Jazz Choruses he bought when Creation signed the band back in the day. Truly indestructible amps.
CHRISTIAN SAVILL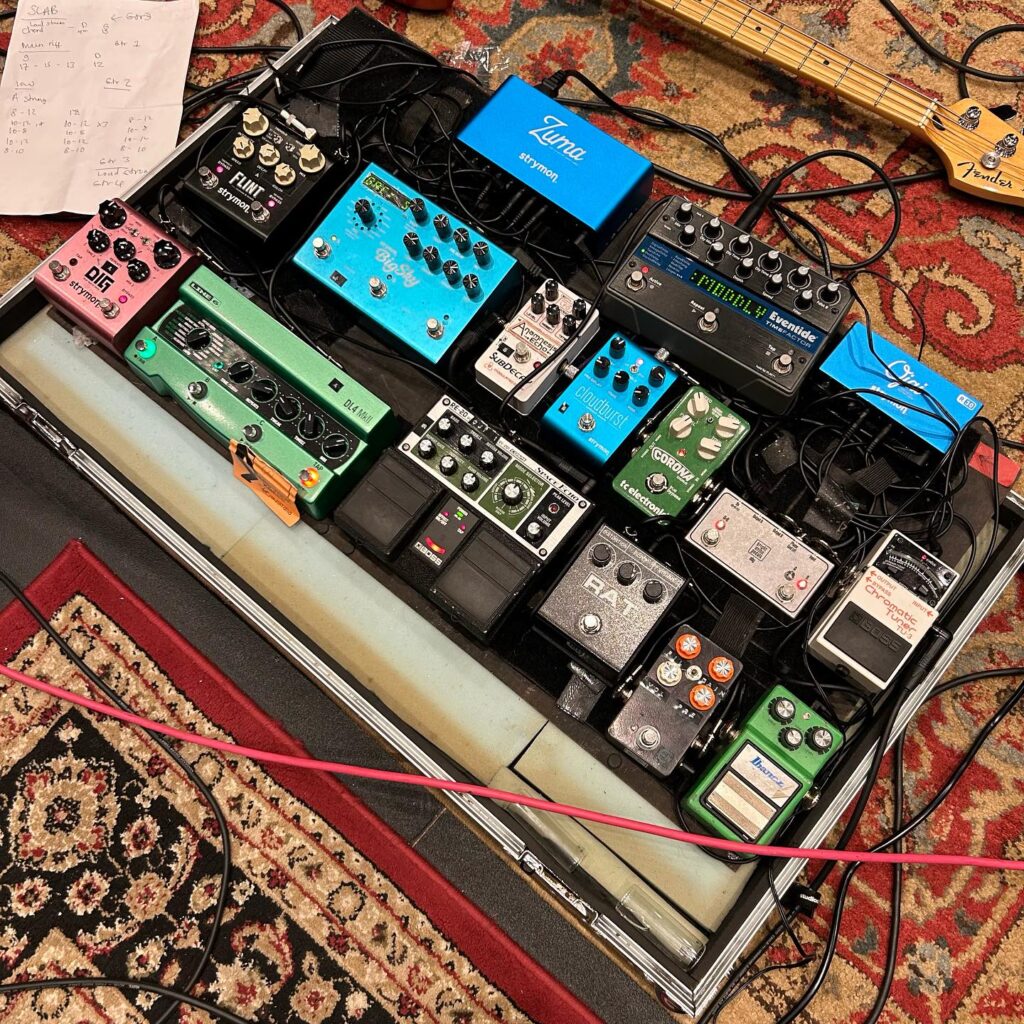 Boss TU-3 Chromatic Tuner
Ibanez TS-9 Tube Screamer
Emmergy FX Slowdriver
ProCo Rat 2
TC Electronics Corona Chorus
Strymon Cloudburst Ambient Reverb
SubDecay Anamnesis Echo
Eventide TimeFactor
Boss RE-20 Space Echo
Line6 DL4 MkII
Strymon Dig Dual Digital Delay
Strymon BigSky Multi Reverb
Strymon Flint Tremolo & Reverb
Bright Onion Pedals aby
Strymon Zuma
Strymon Ojai
Christian Savill's rig is equally impressive, and yet also has not changed that much over the years of their reunion. Like Neil, Guitar Geek had him favouring Boss and Rat for dirt since the '90s and that was the case at least up until 2016 when Equipboard stored a shot of his setup for posterity. Since then, he's ditched the Boss SD-1 and DS-2, in favour of the TS-9 and a couple of Rat variants. Also fallen out of favour in the last few years are the Mooer Ninety Orange phaser, Dr Scientist BitQuest, the loop switcher, and he's gone from GigRig power supplies to Strymon.
Trying to figure out his signal path from just the pic is pointless – he runs a stereo rig with a Fender Twin Reverb and Vox AC30, and only he and his roadie knows where the signal splits are and what boxes feed which amp. Save to say there's a lot of delay and more reverbs than Neil uses – I suspect the Strymon Cloudburst is pre-distortion for that extra-billowy sound.
Savill's number one guitar is still his '80s Japanese sunburst Fender Stratocaster. As told Guitar World recently:
As for me, the only left-hand guitars I could find in Reading in the late '80s were Strat copies. Eventually, my dad lent me the money for a Japanese Fender Strat. It's still my main guitar now. I'm glad I had no choice, because I might have gotten distracted by what looks cool. It was just, 'Okay, let's make this work.' And luckily, it does.

Christian Savill, Slowdive
"I wanted to play like Johnny Marr, but I lacked the ability – or was too lazy. So we ended up with these big, beautiful drones": Slowdive are one of shoegaze's most important bands – here's how they shaped a genre (and the pedal market) @ Guitar World
RACHEL GOSWELL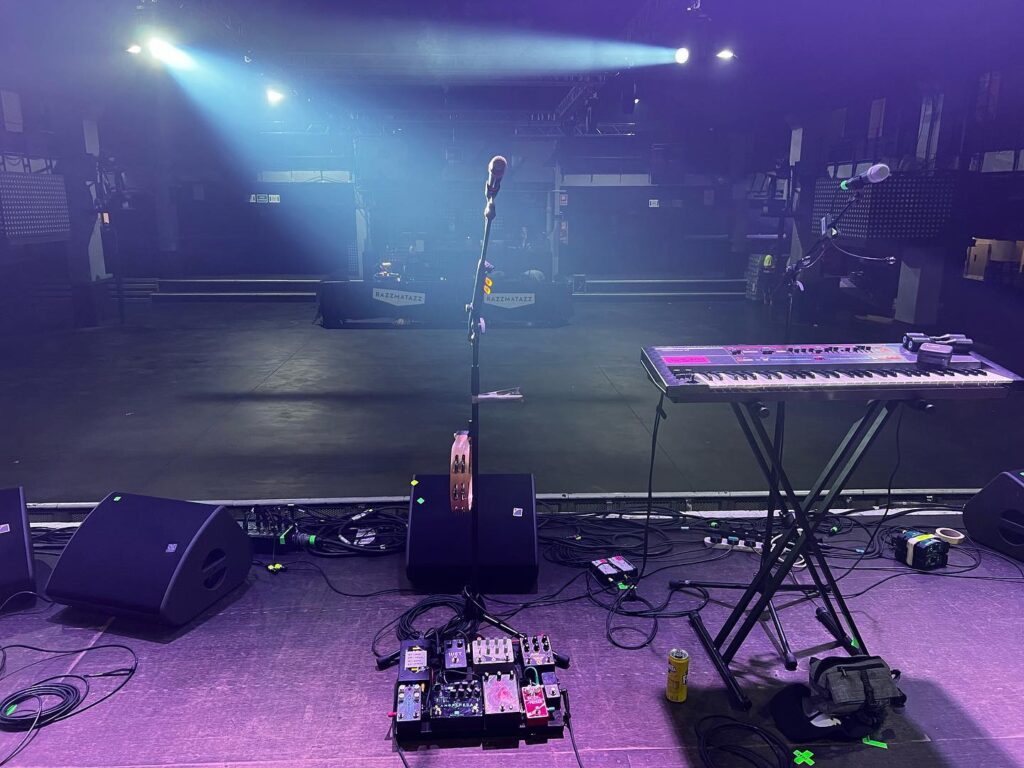 TC Electronic PolyTune
Devi Ever Soda Meiser
Lauren Audio Mustang
Seymour Duncan Andromeda
Old Blood Noise Endeavors Dark Star
Electronic Audio Experiments Dude Incredible
Old Blood Noise Endeavors Rever
Neunaber Wet Mono Reverb
TruTone CS7 power supply
Rachel Goswell's board wasn't included in the recent Instagram post, but she shared a shot of her setup prior to playing Barcelona last June. It's no guarantee that it's what she's using on this tour – for only playing guitar on the band's older material, she's rotated through more stage guitars than the others combined – but it's probably pretty close. It's certainly the most boutique-y board of them all! On this tour, she appears to be favouring a sunburst '72 Fender Thinline Telecaster into a Roland Jazz Chorus.
It's hard to talk about "the Slowdive sound" without talking about the Yamaha FX500, the '90s multi-effects unit which is overly-associated with the band's early sound. So much so that there is a current pedal clone of the "soft focus" factory preset that everyone assumes is instant Souvlaki; it's not. I have an original FX500 – of course I do – and while the "Soft Focus" patch is unique and cool, it's far from versatile and is a pain in the ass to use. Same goes for the Catalinbread box – of course I have one of those too – though it's less extreme and arguably more useful for a specific kind of ambience.
In a 2017 interview with Reverb, Neil talked about going out and getting another FX500 when they reformed because… it's what Guitar Geek said he'd used the first time around:
Christian: It's easier to do now with the effects that are available. Of course, you're always working to get it exactly how you want it, and it's interesting that it's all at your feet now. Rack gear isn't really as much of a thing anymore.

Neil: We were always geeky about effects and stuff. Before we started touring again, I went out and tracked down a Yamaha FX500, which is what I used the last time around.

Christian: You went out and got one?

Neil: Yeah! I had it at the first practice. I actually went to GuitarGeek.com see what I'd used, and bought one online. Then I thought, "Hold on… There are so many cool pedals out there now." A great thing about this reunion was that it was an excuse to go out and buy a load of pedals and muck around a lot. They're easier to work with, sound better, and they are just fun.

Slowdive: "A Great Thing About This Reunion Was That It Was an Excuse to Go Buy a Load of Pedals" @ Reverb.com
Guitar World also asked Christian Savill about the FX500 in their recent interview, and his response certainly goes against the conventional knowledge about their use of the box.
"Eventually, I got a Yamaha FX500, and I think I hit the Lush Strings setting pretty hard. But I guess the pedals I use have changed a little. I've got a great Strymon reverb, but that's not massively surprising."

I'm sure you're aware that Catalinbread makes a pedal called the Soft Focus Reverb, which is essentially designed to capture the sound you and Neil created.

"Well, we had nothing to do with that pedal happening. But we saw it on social media and thought, 'Hey… it would be cool to have one of those, and maybe we could just ditch carrying our heavy pedalboards around everywhere.' Of course, we did use the original Soft Focus patch on the Yamaha FX500 a bit, mainly for shows. But as I mentioned, we used the Lush Strings patch often, maybe more than the Soft Focus patch. But I could be imagining that. "

Christian Savill, Slowdive
"I wanted to play like Johnny Marr, but I lacked the ability – or was too lazy. So we ended up with these big, beautiful drones": Slowdive are one of shoegaze's most important bands – here's how they shaped a genre (and the pedal market) @ Guitar World
I would hope there's some more gear-centric interviews with the band coming. Because that is my oxygen.